The Catherine series were translated into 26 languages and published and available in 31 countries

ATTENTION :
in these countries the Catherine series were separately published, but:
Australia, Canada, England, United States - language ENGLISH
Austria, Germany, Switzerland - language GERMAN
Russia, Ukrania - language RUSSIAN


Please click on each book cover below for all information when each book was translated and published...
| | | | | |
| --- | --- | --- | --- | --- |
| | | | | |
| AUSTRALIA | AUSTRIA | BRASIL | BULGARIA | CANADA |
| | | | | |
| CROATIA | CZECH REPUBLIC | DENMARK | ENGLAND | FINLAND |
| | | | | |
| FRANCE | GERMANY | GREECE | HOLLAND | ICELAND |
| | | | | |
| IRAN | ISRAEL | ITALY | LITHUANIA | NORWAY |
| | | NEW | | |
| POLAND | RUSSIA | SERBIA | SLOVAKIA | SLOVENIA |
| | | | | |
| SPAIN | SWEDEN | SWITZERLAND | TURKEY | UKRANIA |
| | | | | |
| USA | HUNGARY ? | ARGENTINA ? | PORTUGAL ? | |
1962 the Catherine novels were first printed in France-Soir and other French newspapers. The manuscript fell unfortunately victim to a fire in the house of the author, consisted of over 1000 pages. But I have in my possession the original summary of the first two Catherine novels written by Juliette Benzoni and send to Opéra Mundi!

Opéra Mundi decided to publish 2 books. The first novel was called "Il suffit d'un amour I" and the conclusion "Il suffit d'un amour II". Editions Trévise added later the name Catherine to "ll suffit d'u amour or "Les Montsalvys" to the novels. The foreign publishing houses chose various titles for the Catherine series. Please click on each book cover above to learn more of the interesting titles other countries selected.

Due to the phenomenal success of the story, Juliette was asked to continue the story of Catherine and her world. Therefore followed in 1966 Belle Catherine Catherine des grands chemins. Catherine et le temps d'aimer, the fifth book in the series ended with an Epiloque. Yet again the author was asked to write two more stories: 1973 Piège pour Catherine and 1979 " La Dame de Montsalvy"; more information about why that book was only printed in 1979 see the page La Dame de Montsalvy.

Some countries like Norway only printed the first two books - Italy only five, (I suppose that the contact broke for some reason with Garzanti.it) Heinemann the English publisher, likewise Avon-books from the USA, did not translate the last in the series. Telos publishing bought the rights in 2014 from Juliette and will in the near future print for the first time ever the seventh "forgotten" book.

There had been a lot of work involved with the research to discover decades later who published the Catherine novels. Without the help of many visitors who actually scanned their covers and sent them via email to me, the list would not be so outstanding and we might never have known how many countries had published the Catherine series. No, there exists not a list on Google books to support what I claim here. If it does someday, we can assume they took the information from this website or that of my friend Frédérique, whom I call the Columbus discoverer of book covers.

However, in the 1979 French edition of Catherine, La Dame de Montsalvy, Trévise enclosed 18 names of countries who translated the Juliette Benzoni novels. On the list is also Portugal, but we never found a book cover, Yet Portugal translated at that time two of the Marianne novels..

One word to Jugoslavia who became in 1991 indepented; they printed one version for Serbo-Croatia and one for Slovenia. Each of these countries, (I am no expert with these languages, it had been explained to me that there is a difference between the written languages) published in later years Catherine on their own with new translators and book covers.

The missing countries on that list are to this day: Brasil 1973, Bulgaria 1994, Iceland 1967, Iran 2004, Lithuania 2004, Poland 1993, Russia 1993, Serbia, 2016, Slovakia 1972 & 1990, Slovenia 1970, Ukrania 1993. If we subtract from the Editions Trévise list Portugal and Yugoslavia and add the above new countries we come to the conclusion that the Catherine series was translated in 27 languages and published in about 31 countries.

latest country found : SERBIA 2016 - 2017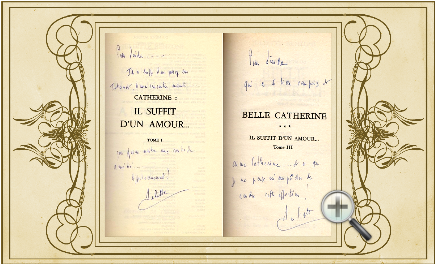 I would like to share these two beautiful dedications of my dearest friend, the late Juliette Benzoni - about my passion for her first international Bestseller - the Catherine Series. Linda of the catherinedemontsalvy.ch site
I would like to express my thanks to Aleksandra, Andrea, Frédérique, Marina, Katarzyna, Sagit, Valery, Kristina, Birgitte, Nathalie, Diana and Dmitry for sending me some of the missing book covers. I am grateful for their help - as without them my collection would not be so far advanced.

the beautiful map with all the countries which published the CATHERINE series, is a present from my friend Frédérique ☺
Linda






non-profit site
© 2008 - 2018 catherinedemontsalvy.ch
All rights reserved