Website dedicated to Juliette Benzoni
---
Welcome to the official Catherine de Montsalvy website. This site has been created in 2008 and was approved by the late Juliette Benzoni in 2009.
It offers besides the Catherine Bestseller everything about the most successful TV series Catherine, il suffit d'un amour (1986) Marianne - Le Gerfaut - La Florentine directed by Dame Marion Sarraut.

There is also a large section about the 86 books Juliette Benzoni had written between 1962 - 2016
With Juliette Benzoniís death in 2016, it is even more important to maintain her legacy.
---
PROPOSAL FOR THE CENTENARY
JULIETTE BENZONI 100 YEARS 1920 - 2020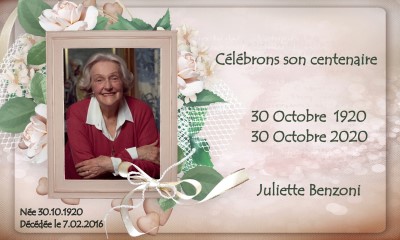 March 15, 2020
We propose a Centenary stamp in France, dedicated to the Centennial of Juliette Benzoni 30.10. - 2020, to honour this extraordinary Author, whose goals it was to make the French love their History.


Please join us with this honourable proposal so this Tribute can be realised !

N O T T O B E M I S S E D P A G E S...

| | |
| --- | --- |
| The adventures of Aldo Morosini → here | All pages concerning Juliette Benzoni → here |
| All links Catherine at one glance → here | All about the TV-Series and Stars → here |
---
---
I hereby confirm that most of these rare over 50 year old articles and photos on this website, dedicated to Juliette Benzoni, belonged to the author herself. Be that newspaper articles or photos. She trusted me with her material to do whatever I thought was best. For more details click here:


The Catherine de Montsalvy website is not associated with France Loisirs, France 2, or any of the individuals or companies associated with producing and publishing Catherine books and films. This site is a non-profit website and therefore constitutes a "fair use" of the copyrighted material. All video clips, photos and other information on this site are for entertainment. No infringement is intented. All information and material on this site are not for sale nor are services being paid for.
---

to contact Webmaster :

→
catherine.de.montsalvy.fan@gmail.com


non-profit site
© 2008 - 2021 catherinedemontsalvy.ch


All rights reserved