Fascinante nouvelle! Deux chanteurs: Michèle Arnaud et Bernard Stéphane ont enregistré dès 1965
un Vinyl de quatre chansons et l'une d'entre-elles s'appellait : Il suffit d'un amour ou Catherine !
Voici ce qui était écrit en page Presse du website Catherine de Montsalvy, le 6 décembre 2009
La chanson composé par Paul AMAR et le texte de Juliette BENZONI


A cette époque, seuls deux des sept livres de CATHERINE étaient écrits. Pour moi c'ètait une nouvelle preuve que les livres Catherine de Juliette Benzoni étaient très adorés par des millions des lecteurs en 1965!

For me this was another evidence that the Catherine series were an enormous success. I do not remember what other Bestseller has had the honour to get a chanson of its own...!

I was able to bid for the record on the Net, convert it to MP3 and listen to it together with Juliette Benzoni and my friend at Juliette's home in Saint-Mandé 2010. Juliette had remembered the song, but not this beautiful version of Bernard Stéphane, but that of another French singer called: Michèle Arnaud.

From the material Juliette shared with us, there are now even the music sheets to look at, the journal had as cover the image of the first Catherine book, or rather the second version from 1965.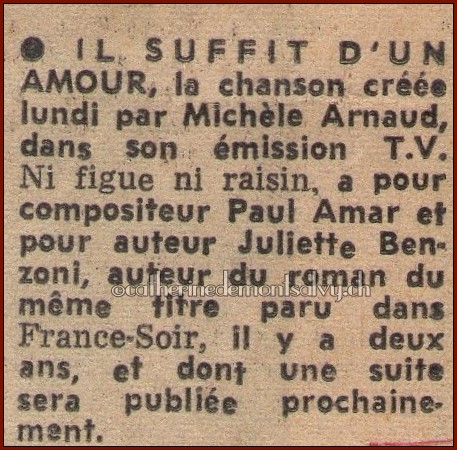 The song can be listened to on the entry page of my website, or if you click on the little nostalgic radio above.
J'aime bien écouter cette merveilleuse chanson - et vous ?