La Guerre des Duchesses 2012
1. La Fille du Condamné (The Daughter of the Condemned)

synopsis : La fille du Condamné (The Daughter of the Condemned)
translated from French by Linda,webmaster

June 21, 1627, François de Montmorency-Bouteville is beheaded at the Place de Grève for having violated twenty-eight times the royal edicts which prohibited duels. He leaves behind a twenty-four year old wife, two little girls and a little boy yet to be born.

It would have been poverty if not Princess Charlotte de Condé, their cousin, felt responsible to raise the children accordingly to their rank. At the Princess home Isabelle, the younger girl falls very early in love with the Duke d'Enghien, the future Grand Condé and eldest son of the house, who is six years older and who disdains her until she grows up to be a beauty.

This will deeply displease his sister Anne-Geneviève, future Duchess of Longueville, very beautiful and who much idolizes her brother with feelings at disorder! She never tolerates that her brother loves someone else and behaves accordingly…

When the troubles of the Fronde break out, that long revolt where everyone betrays everyone, where the friend of yesterday becomes the enemy of the future, where one hangs around in the mud of the Regent Anne of Austria and Cardinal Mazarin, the relationship between Isabelle, now Duchess of Châtillon to Madame de Longueville takes on a new dimension putting them in opposing parties...

La
Guerre des Duchesses 2013
2.
Princesse des Vandales
(Princess of Vandals)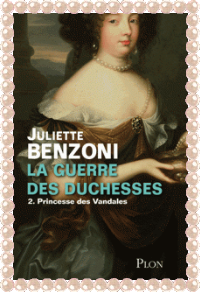 synopsis : Princesse des Vandales (Princess of Vandals)
translated from French by Linda,webmaster
After finding her castle plundered and devastated by the troops of the Grand Condé, whom she loves since childhood, Isabelle, Duchess of Châtillon, intends to make him pay, yet cannot resist him for long when he confesses his love to her. It could be happiness, but it is the end of a relative peaceful time for Isabelle.
The Fronde of the Parliament and the Parisians ends. That of the Princes begins. The reason is more to chase away Mazarin who is seizing for power, before the young Louis XIV will assume his reign.

For Isabelle begins a relentless and exhausting fight where she will go to gamble her life to prevent the hero of Rocroi to join the enemy to put his weapons against France, carrying with him François, her younger brother whom she loves infinitely.
When this hard battle ends, Isabelle, adored by some, detested by others, will not have finished with adventures. They lead her very far, very high, never abandoning the love of her childhood.
♣ E-book - Kindle...Edition... Amazon.fr. Amazon.com
La Guerre des Duchesses - complete edition : La fille du condamné, Princesse des Vandales
♣ interesting detail : A new dedication in the France-Loisirs edition (by Juliette Benzoni)

I must confide something to you, dear friends of the Club.

Until I met Isabelle, I've never understood the Fronde, this senseless period when « friends of yesterday, became the enemies of the future »

Born on the steps of the scaffold where her father died, charming and full of life, she crossed these days of violent unrest, adored by some, hated by others, without ever abandoning what was important to her : her passion for Condé, her love for her younger brother and her loyalty to Louis XIV, still too young to impose his will ...

I like Isabelle! And you?

Juliette Benzoni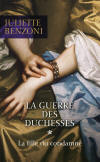 France-Loisirs club edition
♣ interesting detail
:
Article
by

Marie-France Bornais : Le Journal de Quebec (Canada)

pages 1 & 2
♣ interesting detail
: article in Point de Vue -
by Vincent Meylan

La Guerre des Femmes
La Fille du Condamné - book 1

« Quarrels of the Duchesses »
One is blonde, the other brown. One is of the Condé's, the other one of the Montmorency's. One is bellicose and probably a bit silly. The other is more charming. Both are duchesses. Longueville first. Châtillon, for the second, who is the heroine of the book. For once, Juliette Benzoni leaves very little room for imagination. She just tells the somewhat adventurous life of Isabelle Angelique de Montmorency-Boutteville, Duchess of Châtillon and of Mecklenburg . Her father died on the scaffold in 1627, when she was only a few months old. She grew up during the Fronde. And to convince her family to accept her marriage, she lets herself be kidnapped by her lover. The funny thing is that all this is true.
♣ interesting detail
: October 2012 Juliette Benzoni - History by Passion



Critique about Juliette Benzoni's book : La Guerre des Femmes 1. La fille du condamné
quote:



T

he heroes

of

Juliette

Benzoni

are always beautiful

and inventive

;

the heroines

gorgeous

and

brave

.

(...) She is somehow the legitimate heiress of Alexandre Dumas ! ...

Her recipe

?

Passion

and work!
♣ interesting detail
: Princesse des Vandales 2013 (chosen as the Book of the month by L'Actu Littéraire)

L'ACTU Littéraire writes in 2013 :
...Appearing on the list of the most read authors in France,
Juliette Benzoni has conquered over 50 million readers in more than 20 countries.

On the occasion of part 2 of series La Guerre des Duchesses - Princesse des Vandales, the magazine L'Actu Littéraire, dedicated a special page to Juliette Benzoni.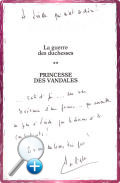 and I cannot resist to share with you my personal dedication in this book by my very dear friend Juliette
♣ interesting detail : when we knew that the wrong cover circulated online, (one Juliette had refused) I was at least able to persuade the two most important Online bookstores in Switzerland, to exchange it with the correct cover we received later from Juliette Benzoni herself! I like to say again thank you to Orell Füssli and ExLibris for their quick reaction!